Updated by Tejas Kinger
In case you choose to discontinue Hiver, you can request deletion of your Hiver account by following the instructions given below:
Click on the yellow Hiver icon on Gmail and select the 'Admin Panel' option to view the Hiver Admin Dashboard.
Click on the 'Settings' tab (sixth tab from the top) to go to the Settings options.
Choose the 'Delete Organization' option and proceed
Click on 'Request deletion of Hiver account'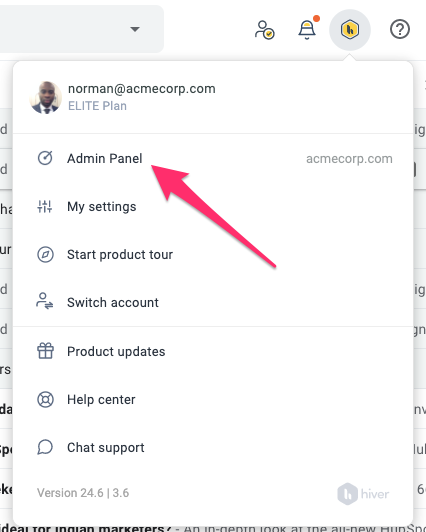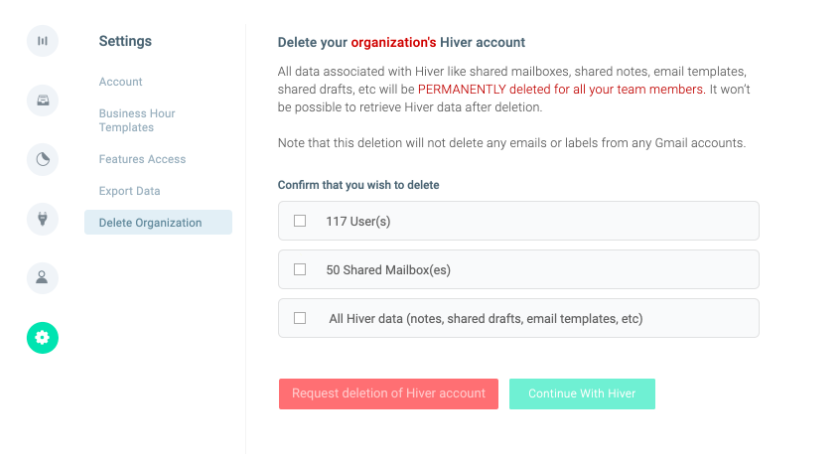 Once you raise a deletion request, we will get in touch with you shortly to complete the deletion process. We recommend you to take a data export before you raise the deletion request.
Note: If your account is due for renewal in the next few days, you may be charged in this period, in which case we will issue a refund.
Account Deletion
Post Hiver team gets in touch with you, we will kickstart your account deletion. You will be notified through email when your account gets deleted.
Do note that deleting your Hiver account does not delete any label or any email from any Gmail accounts associated with Hiver. However, all shared mailboxes and the data created within Hiver like shared Notes and shared Templates will get deleted.
Additionally, you should also remove the Hiver browser extension from your browser if you had that installed.
Delete the browser extension from Chrome
Go to chrome://extension.
Do a Ctrl + F and search for Hiver.
Click on the 'Remove' button to delete the Hiver extension.