Updated by Deepanwita
Hiver users can be assigned roles which imply the actions that they are allowed to perform. There are four pre-defined roles available by default. But one size does not fit all and hence, Hiver allows the creation of custom roles that can be defined by grouping together permissions from a range of options.
Roles
Types of Roles
1. Default Roles
The four pre-defined roles which are available by default are as below
Admin: Being the most powerful role in Hiver, Admins can create and configure shared mailboxes, add/ remove users, and map users to roles. They also have access to account management and billing information.
Shared Mailbox Admin: Shared Mailbox Admins can configure the settings for the shared mailbox that they are a part of.
Supervisor: Supervisors can review team performance through access to analytics. Supervisors can also perform housekeeping tasks like deleting tags and email templates.
Member: Members are allowed to manage and respond to conversations. This is the default role assigned to all users added to the account.
Settings for default roles are fixed by Hiver and cannot be modified.
Only two roles 'Member' and 'Admin' are available in the Growth plan. All four default roles are available in the Pro plan and above.
2. Custom Roles:
Admins of accounts in the Elite plan can create new roles by combining permissions from a range of options.
To create a custom role
Click on the yellow Hiver icon to go to the Hiver Admin panel
Click on the tab 'Users and Roles'
Click on 'Roles' to see the existing roles present on the Hiver account
Click on the green button 'Create New Role'
Enter the details in the 'About' section
Choose the actions which the members of the role can perform by selecting them from the list
Save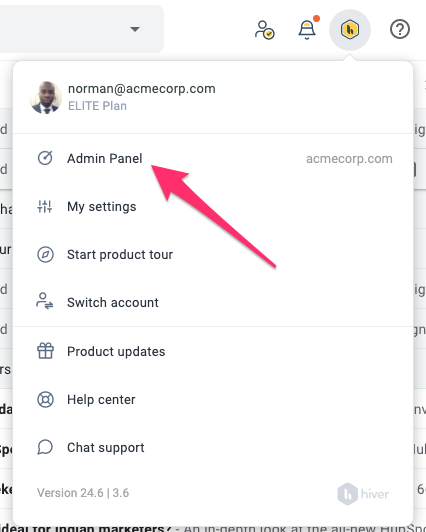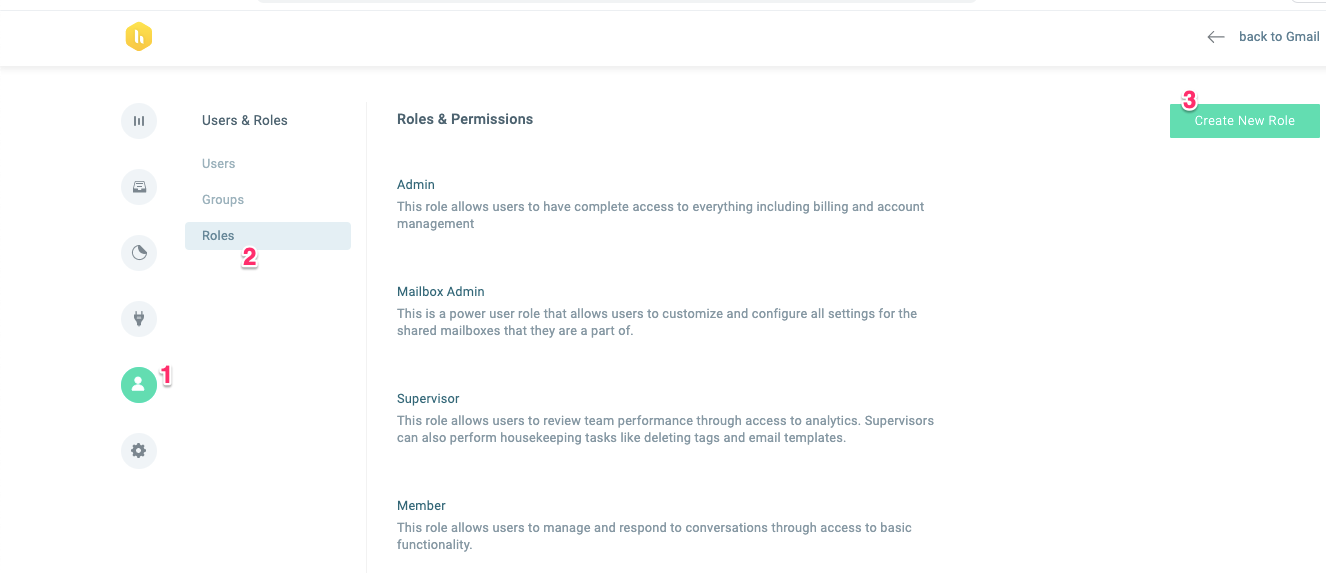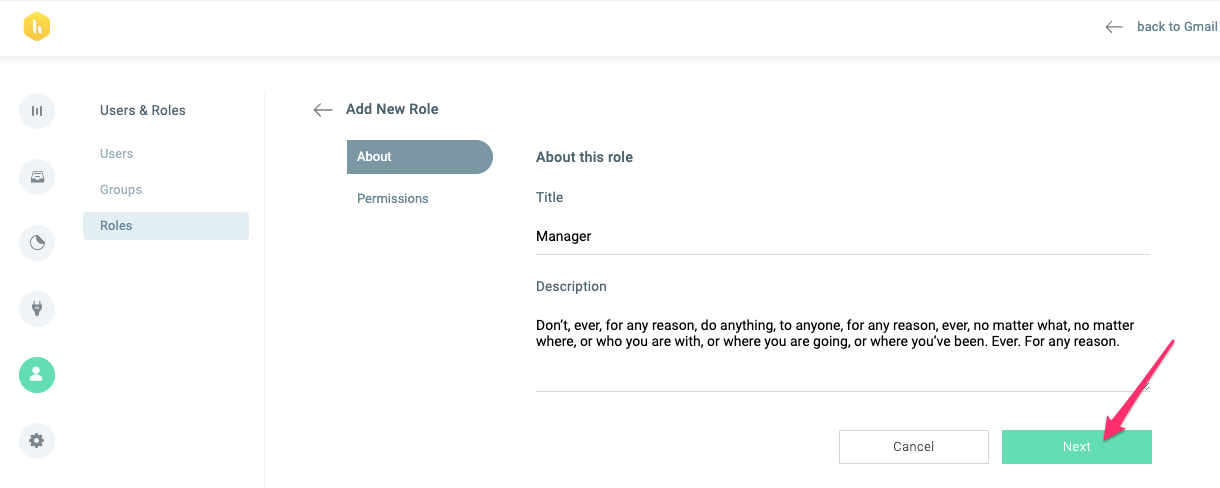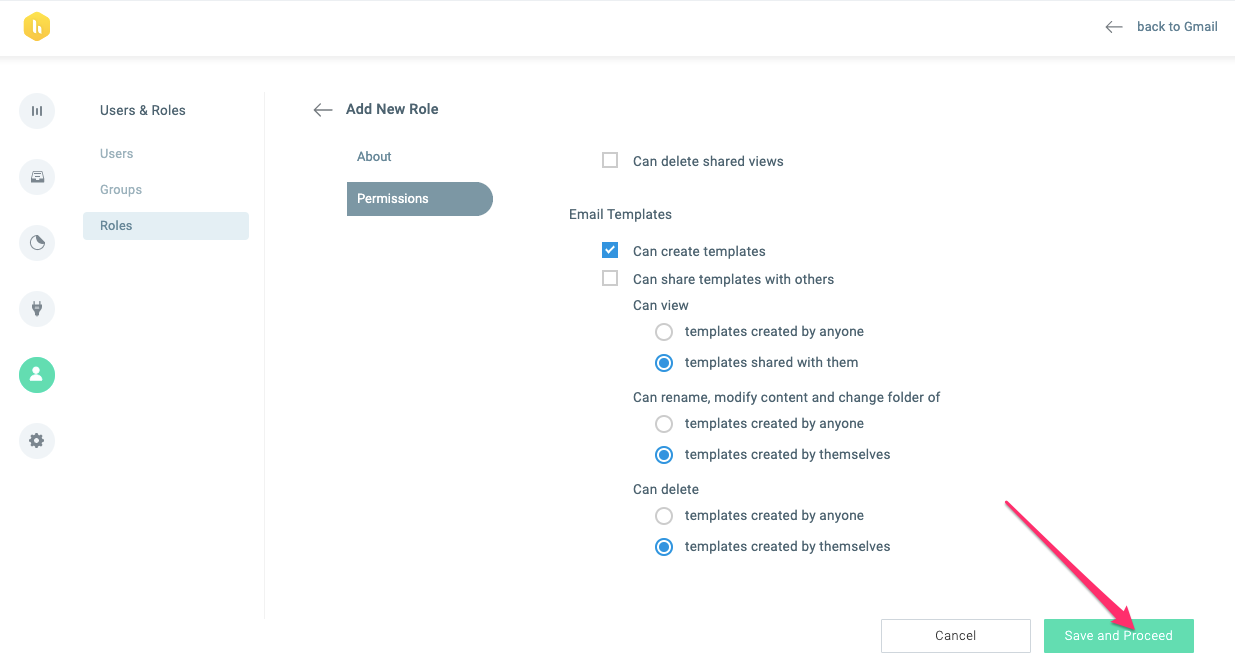 Please note
A. Only Admins can create new roles.
B. A maximum of 3 custom roles can be created per account.
Custom roles can only be created in the Elite plan
Assignment of Roles
Only Admins of a Hiver account can assign roles to users. Hiver users can be mapped to only one role and the permissions under this role will apply to all shared mailboxes that the users are a part of. For example, a user who is a Supervisor on one shared mailbox cannot be a Shared Mailbox Admin on another shared mailbox.
Whenever a new user is invited to the Hiver account, her role can be set by the Admin. Admins can change the role of any user
Changing a role for a user
Click on the yellow Hiver icon to go to the Hiver Admin panel
Click on tab 'Users and Roles'
Click on 'Users' to see the existing users on the Hiver account along with their roles
Click on the role dropdown from where you can change the role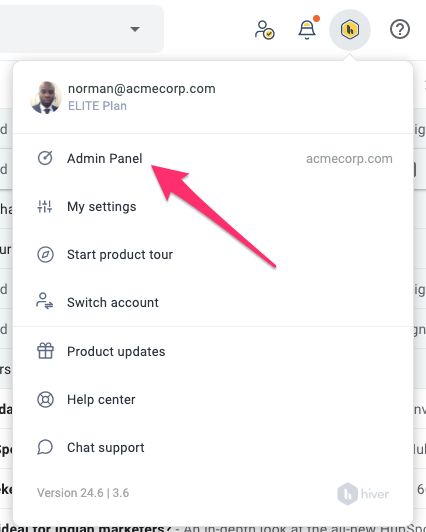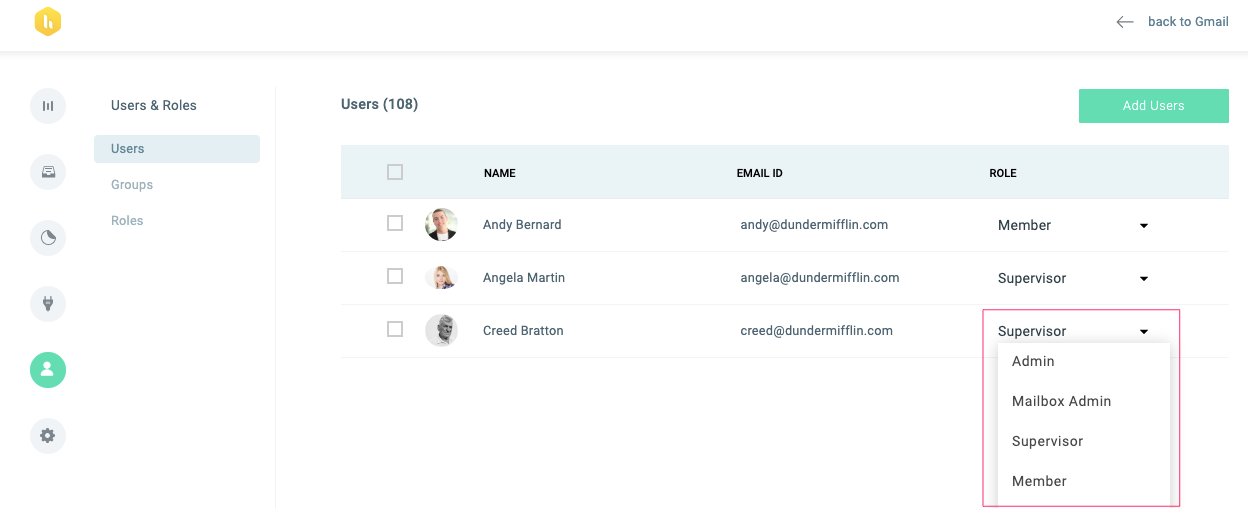 Availability of Roles according to plan
| | |
| --- | --- |
| Role and Permission | Plan |
| Default Roles Only | Lite |
| Default & Advanced Roles | Pro |
| Default, Advanced, & Custom Roles | Elite |