Updated by Raghav
Zapier is a tool that allows you to connect apps you use every day to automate tasks and save time. Each connection that you make is called a Zap!. It follows a trigger & action flow wherein, you configure Hiver as the Trigger, define the conditions and choose what happens if they're met. You can have multiple actions for a single trigger too.
Hiver and Zapier
You can connect Hiver to possibly any application out there through Zapier and become more efficient with your work. 
All the Action apps supported by Zapier would work perfectly fine with Hiver.
Hiver supports 5 options when set as a Trigger with Zapier and those include:
A. Email assigned to a user
Triggers when an email is assigned to a user.
B. New @ mention
Triggers when a user is mentioned in a note.
C. New Emails in Shared Mailbox
Triggers when a new email lands in the Shared Mailbox.
D. New Shared Note
Triggers when a new note is added.
F. New Email in Shared Label
Triggers when a new email is added to a Shared Label.
Hiver can be searched in the zapier app directory, and clicking on it will show the list of Hiver triggers available
Once you've established the trigger,  connect your Hiver Account with Zapier, configure the action and turn "ON" your Zap.
Configure Hiver to integrate with Zapier
You can follow these steps to setup the Zapier connection. Only users who have roles which give them the permission to configure connectors can do so. Click here to learn more about roles and permissions.
Click on the yellow Hiver icon on Gmail and select 'Admin Panel' to go to the Hiver Admin Dashboard
Choose 'Connectors'(fourth option) from the left pane
Enable it through the toggle button
Copy the API Key and the Account Name.
The API Key is a unique identifier that lets you connect your Hiver Account with Zapier.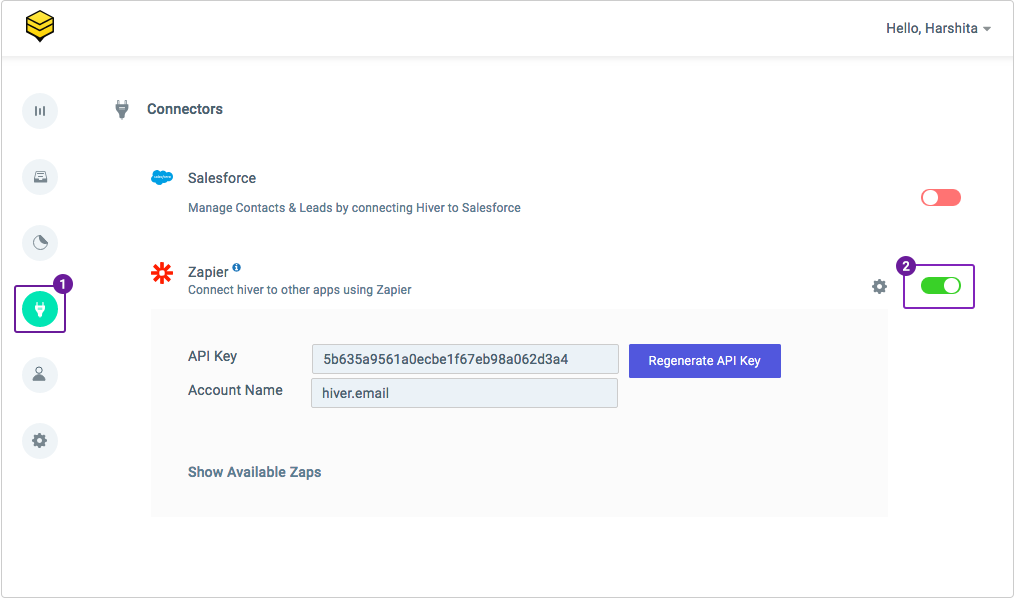 Allow Zapier to access Hiver
Once you've acquired the API Key and the Account Name, head over to Zapier and:
Login to Zapier.
Hit the Make a Zap button on the top-right.
Choose Hiver as the Trigger.
Enter the API Key, Account Name and Email address.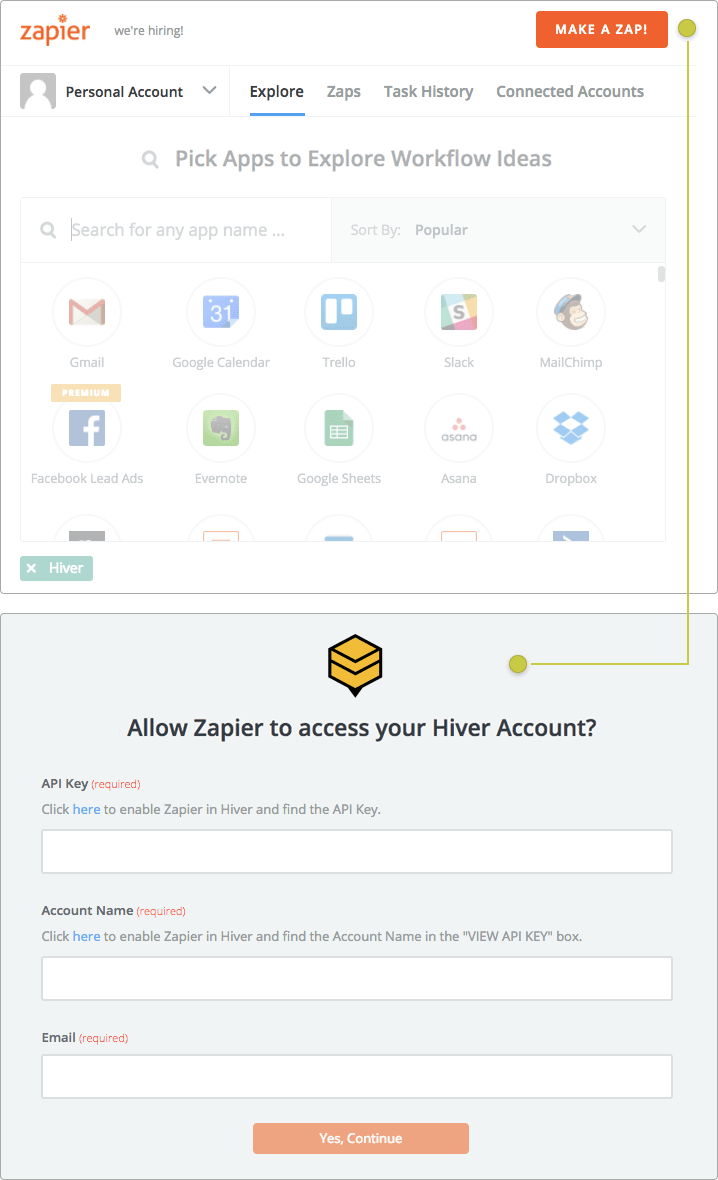 The email address that you enter here needs should be of a user with a role who has the permission to do configure connectors.
Choose the Trigger conditions and complete the on-screen instructions to finish the setup.
Similarly, select an Action App and define the actions.
Switch the Zap to "ON" by using the toggle switch on the top-right.
Now, every time the trigger condition is fulfilled, Zapier will trigger the action app and perform the defined actions.