Updated by Deepanwita
You can integrate Slack with Hiver and receive notifications on Slack for Hiver events such as when you are assigned an email, someone sends you a note or a new email comes in a certain shared mailbox.
Hiver Admins will need to do a simple one time integration with Slack.
Integrate Hiver with Slack
Click on the  yellow Hiver icon on Gmail and select the 'Admin Panel' option to view the Admin Dashboard
Click on the 'Shared Mailbox' tab( second tab from the top) to view the list of shared mailboxes on your Hiver account
Click anywhere on the row of the shared mailbox, which you want to integrate with Slack, to find the options 
Click on the 'Connectors' tab to open the Connectors page
Enable the option for Slack.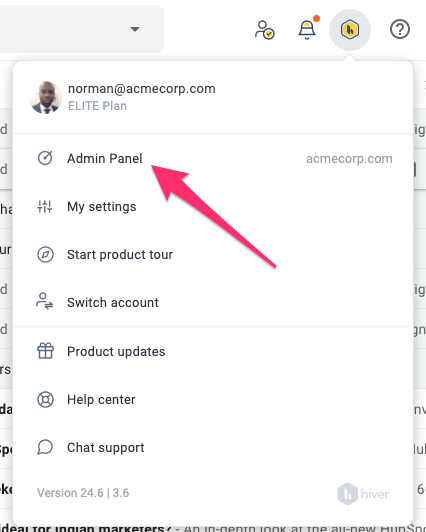 Select the options for the Slack Integration.

Options for Slack Integration
You can choose any or all of the options depending on your requirement.
Send email alerts about new emails to Slack
Here you can expand the dropdown and choose a Slack Channel where notifications will be sent whenever a new email is added to the shared mailbox. Only the public Slack channels will be visible in the dropdown. A link to open the email will also be sent to the Slack channel. 
Send assignments to Slack
Whenever an email is assigned to a user, she will get a personal notification in Slackbot.
Send @mentions in Notes to Slack
If this is selected, then whenever a note is addressed to anyone using @mentions, then a notification will be sent to her in Slackbot.