Updated by Shoaib Ali
Auto Assign unassigned conversations to Responder
Available across all plans
When agents first attend to shared conversations, their typical workflow would be to respond to the customer and then assign the conversation to themselves. This last, manual step of assignment can prove to waste crucial time in the long run and oftentimes the agents even forget to do this. To save this time for agents, each shared mailbox has a feature called Auto-assign unassigned conversations to responder.
To find this feature, navigate to your shared mailbox Settings in the Admin Panel.
Once toggled ON, any unassigned shared conversation from this mailbox will be automatically assigned to the agent who makes the first, next or periodic response for that conversation.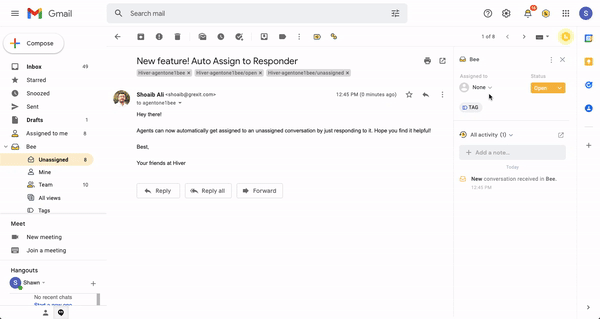 When this auto-assign automation occurs, the activity panel will print 'Hiver assigned to John (example user) based on response'.
This automation will only work for responses sent for shared conversation from the Hiver Gmail extension and the Hiver mobile app.