Updated by Deepanwita
Plans: Elite only
You can use Round Robin Assignment to automatically assign emails received in a shared mailbox to the users of the shared mailbox in a round-robin manner. This ensures equal and prompt assignment of emails, hence improving efficiency. This is useful for teams who receive a high volume of email conversations in their shared mailbox and can find manual assignment cumbersome to use. 
Enable Round Robin Assignment
To enable Auto Assignment for your shared mailbox
Click on the yellow gear icon on your Gmail and select the 'Admin Panel' option to view the Hiver Admin Dashboard
Click on the 'Shared Mailbox' tab to view the list of shared mailboxes on your account
Choose the shared mailbox where you want to enable the Round Robin Assignment feature and click anywhere on the row to view the options on the shared mailbox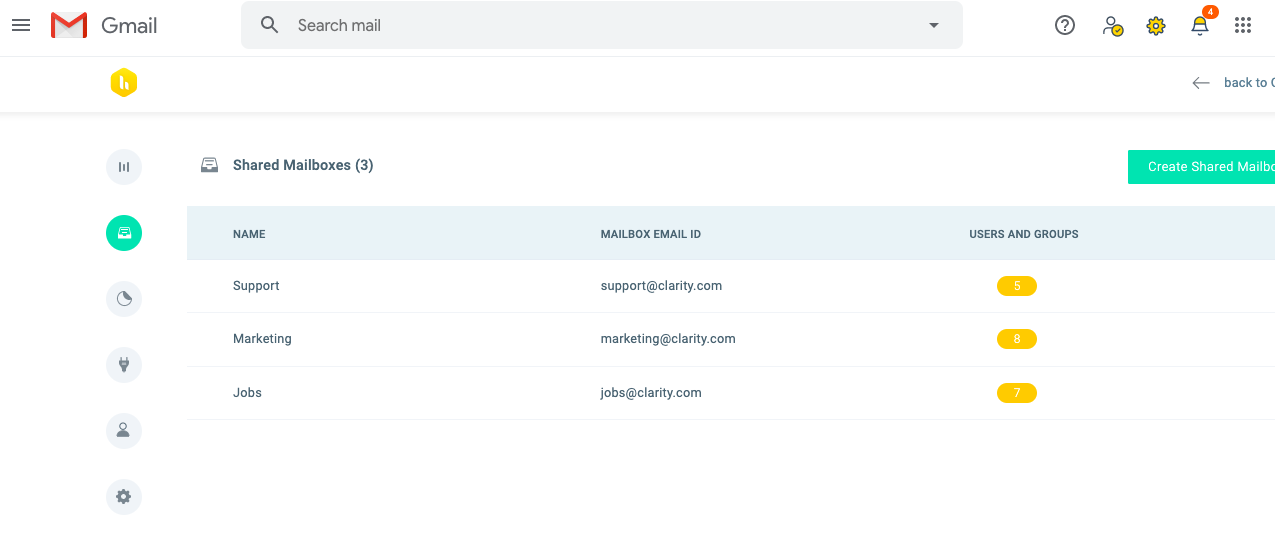 Click on the 'Auto Assignment' tab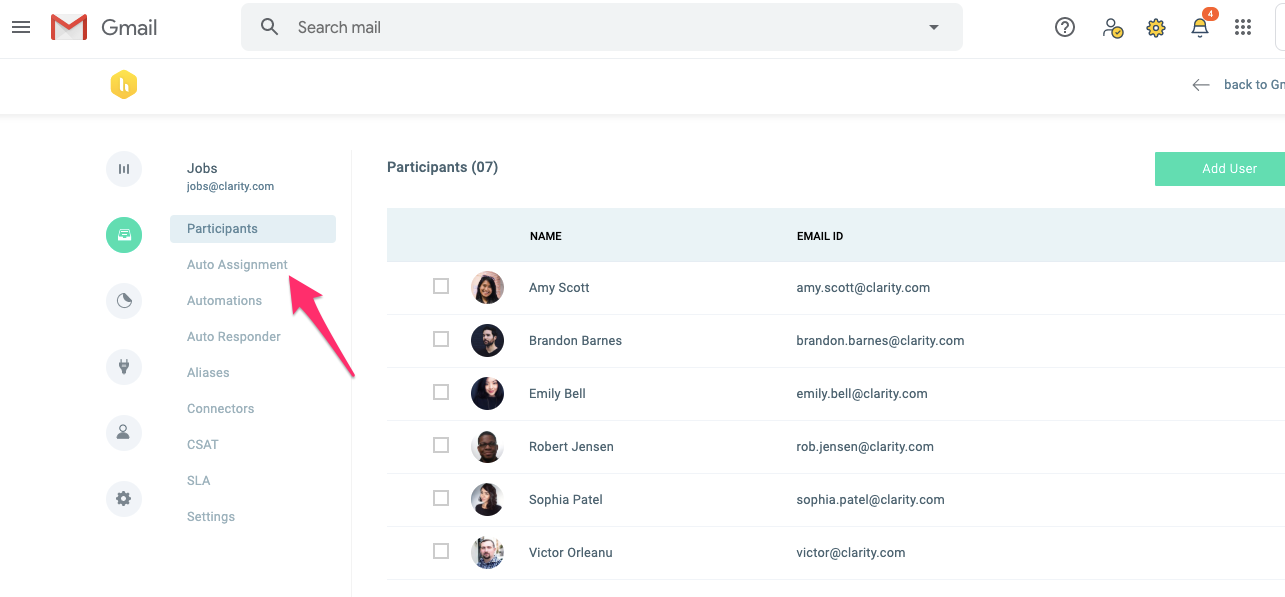 Enable the Auto Assignment option

Exclude Users from Round Robin assignment queue
You might want to exclude certain users such as admins from automated round robin assignments. You can do that by using the 'Exclude users from Round Robin' setting. This can be changed at any time, and the new settings would be reflected immediately.

Manage User Availability for Round Robin Assignment
Emails are assigned only to users who are currently available. By default, none of the users in the shared mailbox will be available. Once you have enabled Round Robin Assignment, you will have to choose the users who you want to be a part of the Auto assignment queue. 
While setting up a round-robin, you can allow users to control their availability using the following option:

If this option is selected, users can set their own availability through the 'Available for Auto Assignment' option found in Settings dropdown.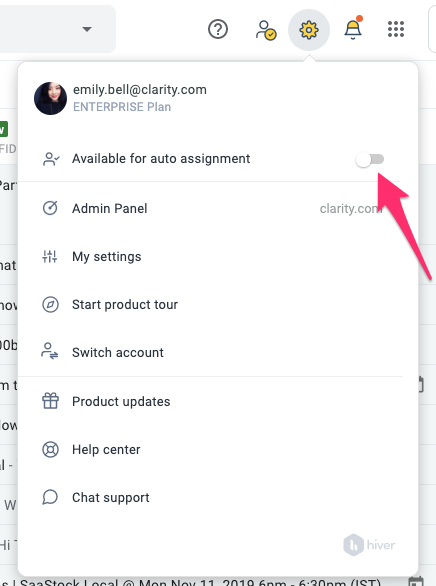 If this option is not selected, then the availability has to be set by users who have the permission to manage the user's availability. This permission is available by default for the Supervisor, Mailbox admin and Admin roles. Click here to learn more about roles and permissions.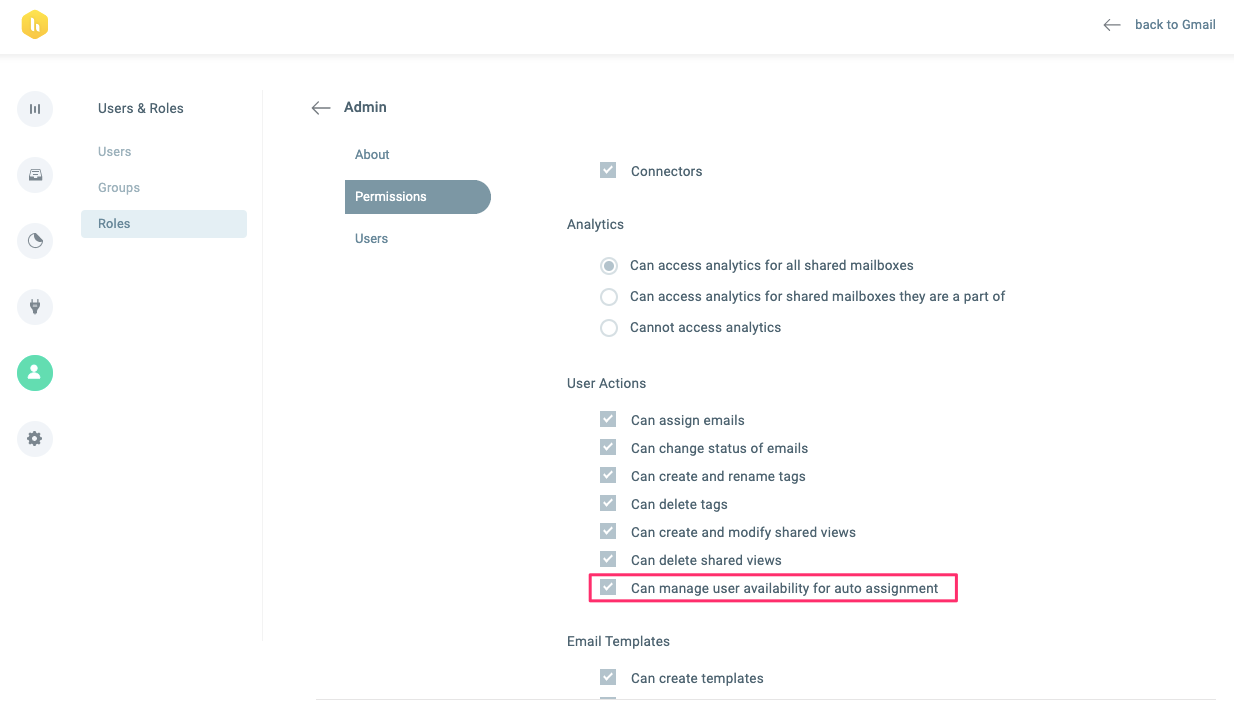 Users with roles which give them the permission to manage user availability can access it from within the Gmail interface using the given steps
1. Click on the second icon on the top right hand side of your Gmail to open the 'Manage User Availability' pane
2. In case of multiple shared mailboxes that have auto assignment enabled, select the required shared mailbox from the dropdown
3. Indicate the available users by using the toggle next to their names.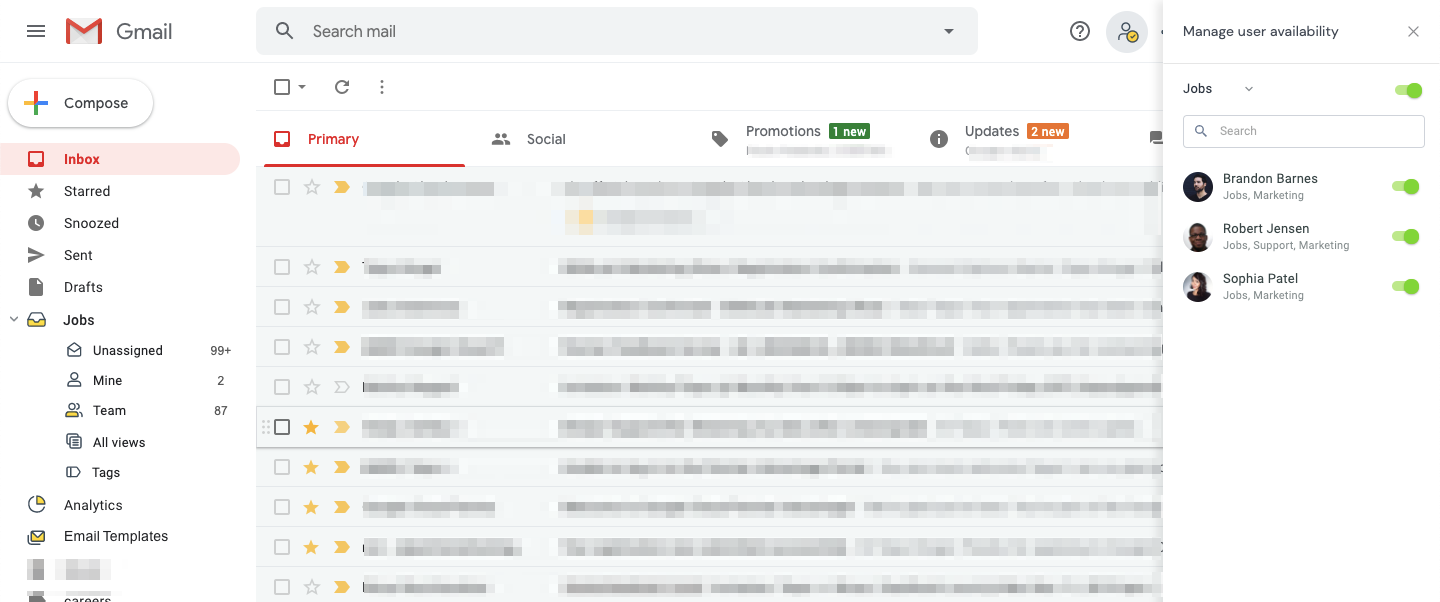 Round Robin Assignment based on Tags
You can use Round Robin Assignment based on Tags if you want to define specific conditions based on which conversations should be auto-assigned so that only the relevant conversations get automatically assigned.
This is useful for teams who want to take advantage of the auto-assignment capabilities but have specific workflows where-in only certain types of conversations must be assigned across all the users of the mailbox.
Enabling Round Robin Assignment based on Tags
Follow steps 1-5 as above.
On reaching the Auto Assignment screen, click on the dropdown menu and select "All inbound conversations with tags."
Next, select the Tags based on which you want the Auto Assignment operation to be performed. Choose between 'any' of the Tags or 'all' of the Tags for your Auto Assignment workflow.
Click on 'Apply' and then click on 'Save' to save your new Tag based Auto Assignment workflow.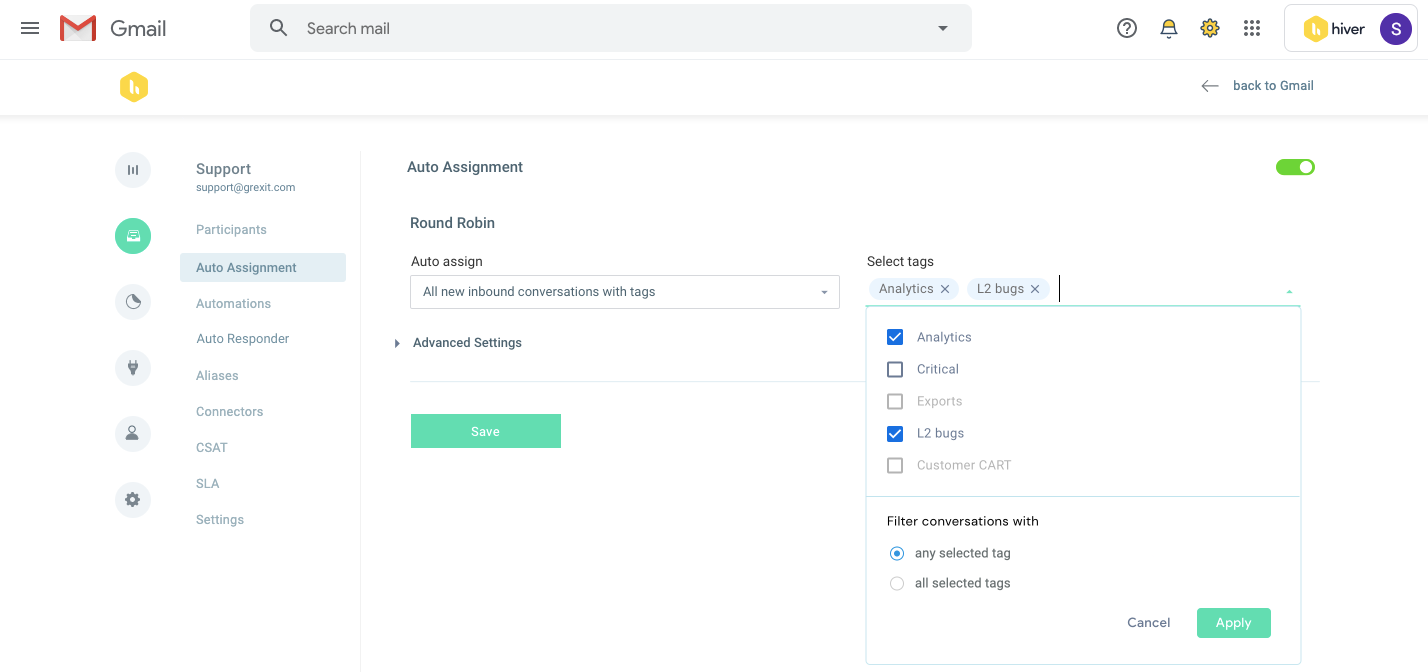 Note: You can ONLY create Tag based Round Robin Assignment for Tags on which automations have been previously set up. This is because, these Tags serve as the means to define conditions within Auto-Assignment.
Things to remember about Round Robin Assignment
Auto assignment will not work on emails which are added to the shared mailbox using the 'Add to Shared Mailbox' button.
A user can control her availability only if the setting to control her availability has been enabled across all the mailboxes she is a part of. 
The availability of a user can be overridden by users who have permission to manage user availability. 
An email that has been automatically assigned to a user can be manually reassigned or closed if the need arises.
Auto assignment works only for new emails that arrive in the shared mailbox after Auto Assignment has been set up.
User availability can be managed only for users who are not a part of the excluded users list.